The MENA region commands abundant human and natural resources, accounts for a large share of world petroleum production and exports, and enjoys on average a reasonable standard of living. Within this general characterization, countries vary substantially in resources, economic and geographical size, population, and standards of living. At the same time, intra-regional interaction is weak, being restricted principally to labor flows, with limited trade in goods and services.

MENA covers a surface of over 15 million square kilometers and contains some 6 percent of the world's population, about the same as the population of the European Union (EU). The three smallest countries (Bahrain, Djibouti, and Qatar) each have a population of about half a million inhabitants. By contrast, the two largest countries (Egypt and the Islamic Republic of Iran) comprise about 60 million inhabitants each. Together with Algeria, Morocco, and Sudan, these five most populated countries account for about 70 percent of the region's population. About half the population lives in cities.
Most MENA countries are experiencing rapid population growth and have high dependency ratios. The average annual rate of population increase during 1989-94 was about 3 percent, the same as that in sub-Saharan Africa. Underlying the population growth are fertility rates substantially higher than those in other economies with similar real per capita income. Kuwait, Libya, Oman, Qatar, Saudi Arabia, and the United Arab Emirates have registered population growth rates exceeding 3.5 percent in recent years, while Bahrain, the Islamic Republic of Iran, Lebanon, and Tunisia have recorded rates below the 2 percent average of the developing countries.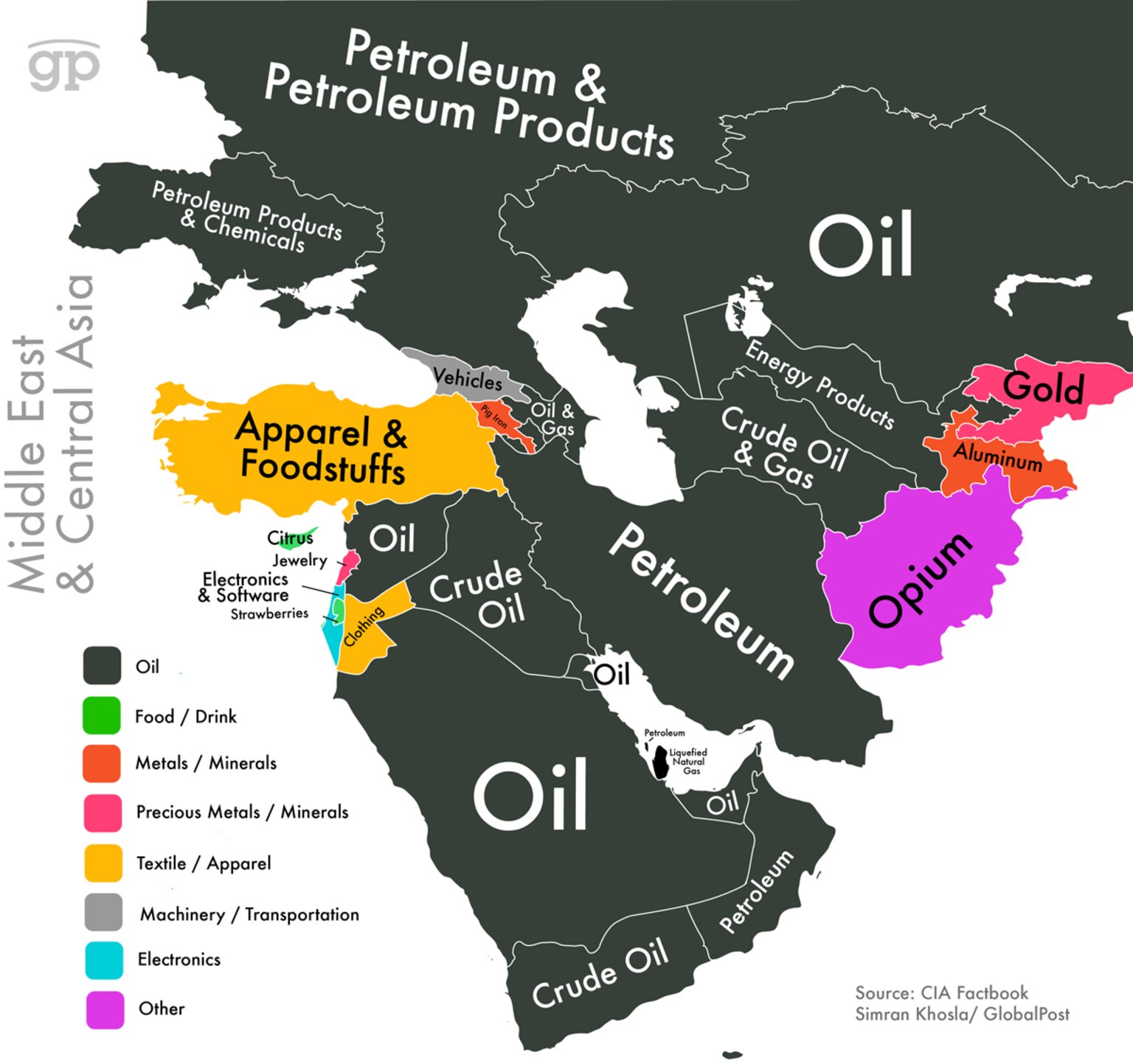 Using the World Bank's latest 2014 figures, we look at the top 10 economies of the MENA region based on Gross Domestic Product (GDP).
10 – Morocco ($104,374,000,000)  
Morocco's economy has been performing relatively well with an average growth rate of five percent over the past few years, despite successive external shocks due notably to the Eurozone crisis and a highly volatile global market. It is ranked at 61 globally in terms of GDP with its main sectors including agriculture, tourism, textiles and rock mining.
9 – Kuwait ($183,219,000,000)
Holding around 10 percent of the world's oil reserves, the energy sector dominates the Kuwaiti economy. It also boasts a strong fertiliser market and its currency, the Kuwaiti dinar (KD), is among the highest-valued in the world. The country comes in at number 54 in the global GDP rankings, with its National Bank of Kuwait one of the biggest operators in the region.
8 – Qatar ($202,450,000,000)
Petroleum is the cornerstone of Qatar's economy and accounts for more than 70 percent of total government revenue, more than 60 percent of gross domestic product, and roughly 85 percent of export earnings. Its construction sector is also picking up strongly, especially with the enormous projects required to host the 2022 Fifa World Cup. Ranked 50 globally.
7 – Algeria ($210,183,000,000)
Just one place behind Qatar at 49 in the world, Algeria's GDP is generated from a wider range of sources. Though oil and gas accounts for a significant share, agriculture is the country's largest employer, with steel and electrical industries also strong. Algeria's economy is forecast to grow by around four percent this year.
6 – Iraq ($222,879,000,000)
Despite the decades of enormous political turmoil seen in Iraq, its economy is still the 46th largest in the world. Oil accounts for a huge proportion of foreign export, although other sectors including textiles, food processing and chemicals are also important to the country. Part of the country's structural problems stem from the fact that vital funding for areas such as construction, health and transport are dependent on government spending, and thus oil revenues.  
5 – Egypt ($271,973,000,000)
Egypt's economy ranks at 41 globally, thanks in no small part to its enormous agriculture and textiles trade. Recent unrest has left the country in limbo, and the Gulf States have pledged a large amount of exceptional financial assistance for Egypt's transitional period. In mid-2013, Saudi Arabia, the UAE and Kuwait pledged an aid package totalling around $17 billion to support Egypt.
4 – Israel ($291,357,000,000)
Unlike many countries on the list, Israel is relatively resource-poor. Major industrial sectors include high-technology products, metal products, electronic and biomedical equipment, agricultural products, processed foods, chemicals, and transport equipment, and the Israeli diamond industry is one of the world's centres for diamond cutting and polishing. Ranked at 37 in the world.
3 – Iran ($368,904,000,000)
Around half of the Iranian economy is centrally planned and although dominated by oil and gas industries, some 40 others exist on the national stock exchange. These include pharmaceuticals, car manufacturing, telecoms and construction, with the country ranked globally at 32. Iran avoided the worst of the global financial crisis in 2008 largely due to its relative isolation.
2 – United Arab Emirates ($383,799,000,000)
The UAE has been successfully diversifying its economy in recent years as more than 70 percent of revenues derive from non-oil industries. Ranked globally at 30, its economy has grown by more than 230 times since independence in 1971. Important sectors away from oil include fishing, aluminium and construction materials.
1 – Saudi Arabia ($745,273,000,000)
The MENA region's largest economy is also the world's 19th biggest, thanks largely to its wealth of natural resources which comprises around 20 percent of the global supply.
Its oil sector accounts for more than 75 percent of government revenues and more than 95 percent of all produce is sold on behalf of the Saudi Government by the giant Saudi Aramco.
However, other sectors do function well in the country - cement, fertilizer, plastics, metals, commercial ship repair, commercial aircraft repair and construction are among those which help keep the economy moving.
Major export partners include China, the United States, Singapore, South Korea, India and Japan.
The private sector accounts for roughly 40 percent of GDP with foreign workers playing an important part across all industries. Riyadh has been able to substantially boost spending on job training and education, infrastructure development, and government salaries. The country continues to be ruled by an absolute monarchy.